Education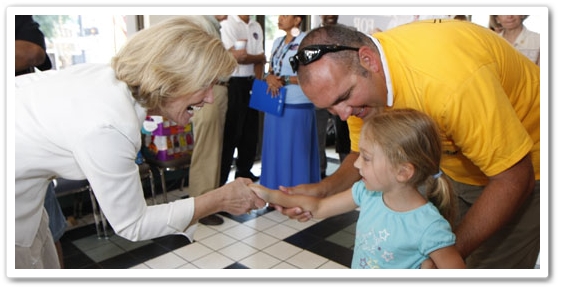 Virginia's economic future depends on a first-rate educational system for all children. With a global economy that is based on knowledge and innovation, we must strive to provide a complete and competitive education from Pre-Kindergarten, through K-12, to our college and university system.
Pre-K
With nearly 90 percent of a child's brain developing before the age of five, an investments in pre-school education is a sound foundation for the success of every student. These investments are demonstrating a significant rate of return by diminishing the need for remedial and special services, while reducing escalating truancy and drop-out rates.
I joined my colleagues in the General Assembly in supporting Governor Kaine's Start Strong Initiative.
K-12
We must continue to support and challenge our K-12 system so that we move from competency to excellence with a curriculum that fosters critical thinking and problem solving.
Working with members of the General Assembly, I was a voice for ensuring the state's contribution to education reflects the true cost of education in an open and transparent manner, and is not passed onto local governments as an unfunded mandate.
I supported efforts to raise teacher salaries to the national average so that Virginia will be a more competitive position to retain and recruit our nation's best teachers.
I voted to support broader vocational training for students choosing not to attend college immediately following high school so they are in the best position to seek job training opportunities.
HIGHER EDUCATION
Virginia has the jewel of the college and university systems in the United States. We must continue to focus on access and affordability of a college education for all Virginia students.
I have consistently supported Tuition Assistance Grants (TAG) for Virginia students attending private colleges and universities. (2006 through 2009 Sessions)
Given the severe budget shortfall in 2009, the funding for TAG grants for graduate students was removed from the Budget. However, I co-patroned a budget amendment that preserved $800,000 for graduate students studying health care professions. This is important for students attending Lynchburg College and Liberty University.
I co-patroned legislation that will allow the State Council of Higher Education to appoint students in private colleges and universities to serve on the State Advisory Committee. This is important for all of the colleges in Central Virginia.